How To Make the Leap from Agency Employee to Owner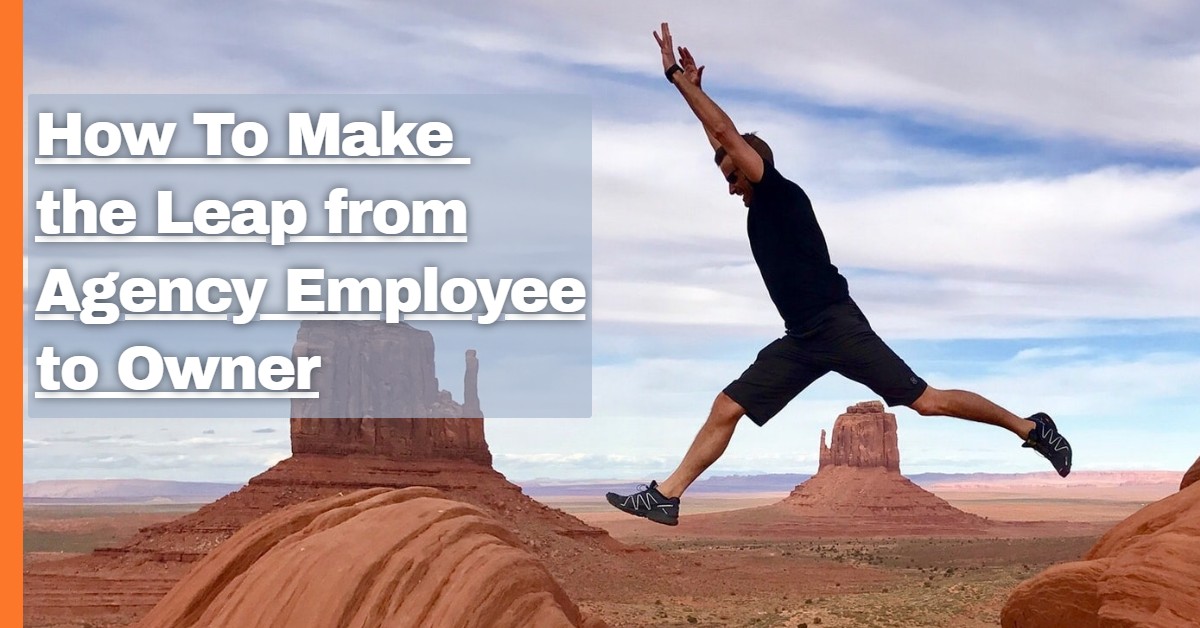 The path from working in an agency every day for someone else to going it alone as an owner can be exciting and scary all at the same time. While it is not an easy decision and will require a lot of details to make it work, the information below will provide insight into the critical items that should be on every new agency owner's mind:
Exit Strategy — If you've been working in another agency for any amount of time, be it two years or 20, it's essential to have a clear understanding of your options and restrictions. Limitations could include a non-compete or other contractual obligations written into the employee agreement. If subject to a non-complete of any kind, be sure to know the specifics and restrictions in the wording that will impact how you're able to conduct business in your agency.
Being able to buy your book of business from your current agency is a great way to build a foundation when opening your operation. Ensuring success at this stage will require an open dialogue with the agency owner. Be sure to keep conversations and negotiations respectful. Burning a bridge with ownership could create a significant derailment when opening your agency.
Technology — The utilization of technology within the operations of an insurance agency is more critical than ever. There are thousands of technology solutions available that allow an agency to digitize processes, drive efficiency, and enhance the customer experience.
It is essential to identify which pieces of technology meet the needs of the agency you want to build. The technology needed includes the Agency Management System, communication tools like email, phone, texting and video conferencing, and client access tools, to name a few. Every product that supports these needs offers slightly different features than the next, and each has its pros and cons. Taking time to do some research and evaluate options to find the right fit is well worth it to make sure you've got the right solutions when it's time to hit the ground running. Consider using a website like Capterra to analyze and compare the different available options.
Service —Service will forever be a critical component to building and maintaining client relationships. Creating a plan to ensure that service does not suffer once you're running the show is crucial to building a solid reputation as a new agency.
As a new agency, you need to be available to sell and not be tied up in service. Budgets can be a real concern as a new business owner but skimping on service will start chipping away at the bottom line and impacting future relationships simultaneously. By investing in qualified talent to service clients, you can provide clients the continuity of service and assurance that you can meet their needs regardless of who's name is on the agency. Whether you bring an Account Manager in a traditional setup or use a Virtual Assistant, both can be great options to make sure that you build a solid reputation for service from day 1.
Markets— It would certainly be challenging to run an agency without contracts with carriers to provide the coverage. While you may be able to secure a few direct contracts with carriers, this can be a time-consuming option as a startup.
A great alternative to utilize when first starting an agency is an Aggregator. An aggregator provides quick and easy access to several markets with minimal up-front investment and generous commission agreements.
*A word of caution– be sure to have any contracts reviewed to ensure you don't lock into something that may not benefit the agency long-term.
Associations —Attempting to go the road alone and prove detrimental to your success. There is a lot to tackle when transitioning from employee to owner. Just like every other step in your insurance career, surrounding yourself with people who can provide insight from their experience is invaluable.
An excellent option for new agency owners is the Independent Agency Owners Association (IAOA). This Association membership includes over 6,000+ agency owners from across the country. It is free to join and provides a great place to connect, ask questions, and be part of discussions with other owners committed to making sure the industry continues to improve.
Leaping the security of being employed by an agency to owning your own can certainly be a daunting jump. Implementing the elements above will give you the start you need to open the doors to a new agency and welcome success inside!
For more thoughts on this and other topics, check out the full episode of The Independent Agent here!